Welcome to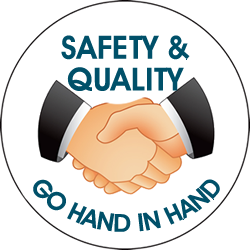 Upcoming Event
20th Safety Convention
Theme:
Back to Basics for Strengthening EHS & Sustainable Foundation
Date: September 11-13, 2023
at : Hotel Le-Meridien, New Delhi
About Safety & Quality Forum:
PREAMBLE
The Safety & Quality Forum (hereinafter referred to as SQF) established pursuant to the resolution of the Council of the Institution of Engineers (India) adopted its 624th meeting on June 22, 2003 at Pune shall have powers to do all matters and things in fulfillment of its objectives under the general guidance of the said council.
MISSION
To create a culture of Safety and Quality, through ethical and professional practices and to promote working environment that leads to the highest level of the productivity and sustainable development with optimal use of resources.
OBJECTIVES
The objective and purpose of SQF are to promote and propagate the concept of SQF and to facilitate exchange of ideas and opinions pertaining to engineering and technology and for that purpose:

(a) To create awareness of the Safety and Quality in engineering operations.

(b) To assist governments and local bodies in framing and enforcing rules and codes for safety and quality management systems in engineering sectors.

(c) To assist private / public sector industrial units in undertaking quality and / or safety audits; and training programme for compliance of laid down rules and codes.

(d) To develop courses, syllabi and course materials for 'Safety Engineering', 'Quality Management' and 'Reliability Engineering' for different levels of engineering education and recommend the same to educational authorities / institutions.

(e) To facilitate and continuing education programmes, seminars, conferences, workshops and training courses on various aspects of safety, reliability and quality management systems.

(f) To collaborate with educational institutions, industry and other professional bodies and societies to promote the concepts of quality, safety and reliability,

(g) To facilitate conduct of training courses on Quality Management System and Safety aspects.